History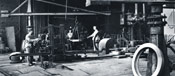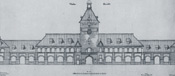 1855
Herrmann Kamp establishes the Paulinenhütte in Dortmund, Germany in the vicinity of the Tremonia mine and relocates the iron works, hammer mill, and rolling mill of the "Mech. Werkstatt Harkort & Comp." from Wetter/Ruhr to Dortmund.Product range: Axles, wheels, iron garnishment, and freight cars for railroad systems produced of self-made iron.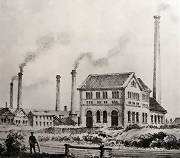 1861
Carl Ruetz, who founded in 1845 on the Aachen estate the steelworks "Aachener Hütten-Aktien-Verein Rothe Erde", purchases the Paulinenhütte and relocates the Aachen works to Dortmund, Germany. The Paulinenhütte gets the company name: "Rothe Erde Dortmund" which is still used today.
1916
The company becomes a subdivision of Dortmunder Union, Dortmund.
1934
New foundation of Eisenwerk Rothe Erde G.m.b.H., Dortmund. Product range: Forge, bending shop, mechanical workshop and Rothe Erde ball bearing turntables - launch of slewing bearing production.
1935
Takeover of Lippstadt Eisen- und Metallwerke GmbH by Dortmund-Hörder-Hüttenverein and Eisenwerk Rothe Erde.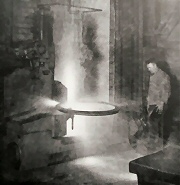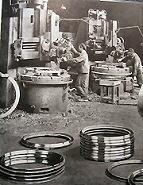 1949
Reconstruction of the company which had been destroyed during the war.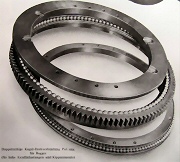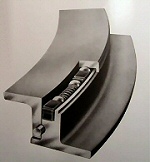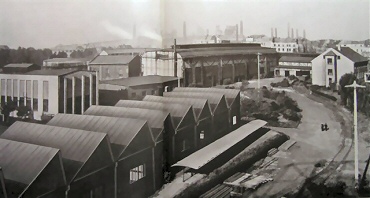 1952
In the wake of the restructuring of the iron and steel industry, assignment of the equity interests of the company to the Dortmund-Hörder-Hüttenunion AG, Dortmund. Production relocation of Rothe Erde ball bearing turntables and slewing bearings to Lippstadt.

1958
Beginning internationalisation by establishing a marketing company in England.

1962
Rotek Incorporated was founded in Ravenna, Ohio, USA as a joint venture with the Thew Shovel Company (Later to become Koehring).
In the sixties and seventies, Rothe Erde extended manufacturing facilities to Japan, Italy, England, Brazil and Spain.
1966
Following the merger between Dortmund-Hörder-Hüttenunion AG and Hoesch AG, integration into the Hoesch group, Dortmund.

1967
Establishment of a modern ring rolling mill in Dortmund.

1972
Rotek Incorporated opened Slewing Bearing Plant 20 for production in Florence, Kentucky.

1976
Rotek Incorporated USA Headquarters and Slewing Bearing Plant 10 became fully operational in Aurora, Ohio.
1980
Rotek Incorporated installed a Ring Rolling Mill at the Aurora, Ohio facility.
1992/1993
Takeover of Hoesch AG by the Krupp group and subsequent merger into Fried. Krupp AG Hoesch-Krupp. Hoesch Rothe Erde - with the business fields slewing bearings and seamless rolled rings - is included into the group.

1999
Since the merger of the Thyssen AG and the Fried. Krupp AG on March 17, 1999 in order to form the Thyssen Krupp AG, Rothe Erde is a member of the group ThyssenKrupp Industries.


2002
Establishment of a manufacturing facility in China. Since June 2002 change of the company name into Rothe Erde GmbH.


2008
Establishment of a manufacturing facility in India.

2009
Expansion of Rotek Incorporated Ring Rolling Mill and Slewing Bearing Plants to include Florence Plant 40.